The U.S. Department of Agriculture estimates that between 30 to 40 percent of the U.S. food supply is wasted.
While there are many culprits for food waste, including disease and complications in the supply chain, consumers buying more than they can eat and food spoiling in the back of their refrigerators is a major problem.
Keeping Your Greens Greener Longer
Finding the right packaging that will help keep your greens greener longer is essential for curbing the amount of produce wasted every year. At Sonoco, we're helping growers get the produce packaging solutions they need to deliver that farm-fresh taste to their consumers.
Designed for growers, EnviroServe™ Leafy Greens, Sonoco's leafy greens package, delivers farm-fresh taste in a sustainable package, enabling growers the flexibility and resources to deliver on their brand promise to their consumers. Our integrated container and SmartSeal® FRESH produce lidding film use a scientifically tested method to seal in crispness, reduce waste, enable automation, and deliver an enhanced consumer experience.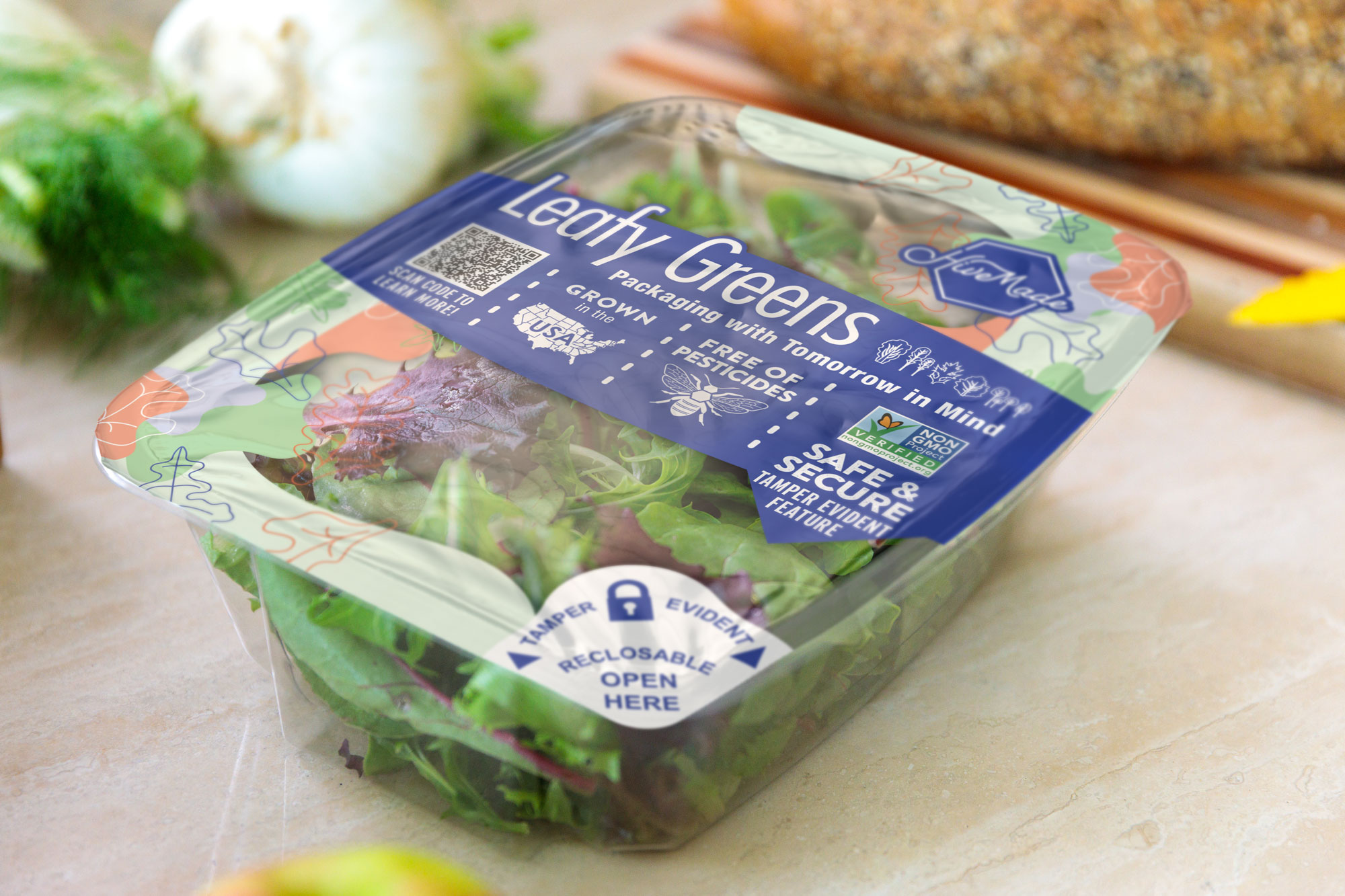 Sonoco's lidding film also makes it easy for consumers to use, reseal and reopen their produce with the convenience of SmartSeal technology, which also allows for tamper evidence and high-impact graphics without the need of a secondary label to be applied.
Building Sustainability into Your Brand
Not long ago, only a small percentage of shoppers sought out organic foods. But today that trend has gone mainstream.
Many of the same health-minded consumers who choose organic foods are also concerned about their environmental impact, buying local and living more sustainably.
That's why it's so important to build sustainability into your brand.
Sonoco's EnviroServe Leafy Greens packaging is manufactured in the United States. The PET trays use a minimum of 30% less packaging than traditional lettuce clamshells, and an average of 70% post-consumer regrind, primarily recycled water bottles, to make our trays. At every step of the process – from manufacturing to shipping – we are constantly seeking new ways to reduce energy consumption, emissions, and waste.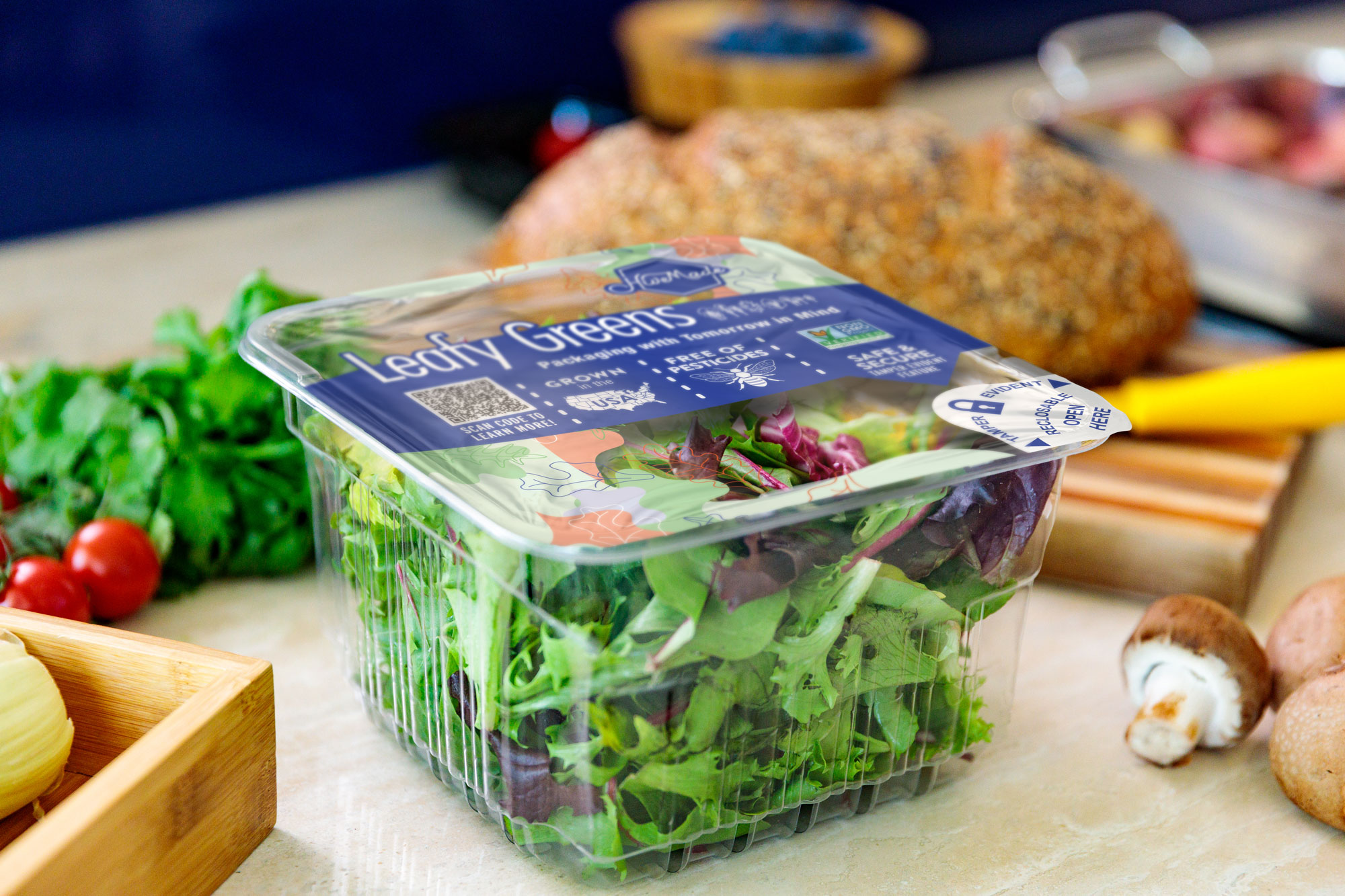 When brands choose a tray with lidding film, they don't have to use a sticker with an adhesive label that contaminates the recycling stream. Instead, consumers can peel off the lidding film and recycle the tray. Our recyclable produce packaging gives consumers the sustainable option they want, and it keeps their salad greens fresher longer. It's a win-win.
Partnering with Sonoco to Reduce Food Waste
Our EnviroServe Leafy Greens line of produce packaging represents more than 100 years of experience in food packaging. This next generation of salad packaging makes purchasing a fully integrated system easy for anyone – from the startups, vertically integrated, hydroponic, and large-scale farmers and offers everything today's consumers want in their salad greens: freshness, quality, and sustainability.
Ready to find out how EnviroServe Leafy Greens can keep your produce fresher longer and help your brand meet its sustainability goals? Contact produce@sonoco.com for more information.