Branding
Seeing is believing.
The TruVue clear can provides a clearly unique alternative to the traditional metal can that's been around since the time of Napoleon. It does this by delivering full surface visual transparency, which in turn creates dramatic and disruptive shelf-impact, communicates a wholesome, hand crafted brand image and signals the purchasing cues of better taste, freshness, authenticity and higher quality today's shoppers are looking for in their mainstay canned food products.
The TruVue can combines compelling brand differentiation, shopper appeal, technological performance and seamless manufacturing efficiency to deliver a revealing and revolutionary package that is clearly uncanny.
Innovation + Branding + Packaging = Impact
Branding
Merchandising Impact
With more than 47,000 products competing for attention in the average supermarket, standing out from the crowd is increasingly important. This is especially true for processed and shelf-stable foods like soups, sauces, fruits and vegetables and even wet pet foods – products traditionally sold in a metal can in the center of the store, an area which is losing share to fresh products found on the perimeter. The unique nature of TruVue creates multiple placement opportunities around the store, including high-traffic areas like the perimeter.
Because the TruVue can delivers the freshness cues from the perimeter to the center of the store, combined with a more premium look and feel, it makes an ideal choice for more premium products. The physical attributes of the can, support the brand image being conveyed about the product inside. This means opportunities for expanded shelf-space, more portfolio SKU's and interesting merchandising techniques on shelf such as color-blocking.
The TruVue can creates an opportunity to breathe new life into a legacy product, or serve as the optimum packaging choice for a new product introduction that requires maximum impact and trial out of the gate.
Branding
Trust & Transparency
In a recent Fortune Magazine article, CEO Denise Morrison of Campbell's pointed to the growing skepticism of large food makers that has resulted from consumers' changing tastes as a key challenge for her industry.
A recent report from the research firm Mintel showed that transparency is clearly important to consumers of all ages, scoring a 60% importance rating to those aged 18-34, and 53% to those 35 to 54. These favorability numbers point to an opportunity to drive brand differentiation and preference with a clear package.

The clarity delivered by TruVue helps satisfy shopper's desires for transparency—they can see the product inside, inspiring brand trust.
Brand Impact

In the end it's about winning at the shelf and that means capturing attention.

Our TruVue package is built for branding. Data also shows that, because of all the advantages over the traditional metal can, there is an opportunity for more premium pricing, which, given similar production costs, means an opportunity for margin expansion.

Finally, our research shows that the TruVue can is overwhelmingly preferred when compared to a metal can, 70% to 30%.

Fresh & Natural

The movement toward, and growth of, organic and all-natural products is increasing.

Our TruVue can is the ideal choice for delivering an image of freshness and goodness shoppers are looking for. The ability for consumers to see what they are buying helps support a brand message of fresh, natural, wholesome and hand-crafted.

Our research revealed consumers believe the food packaged in TruVue will taste better and be fresher than food packaged in a traditional metal can. The TruVue can is also BPA-NI for food contact, a very important issue for today's consumers.

Microwaveable. Remarkable.

The TrueVue can is designed and made of materials for microwave compatibility. Consumer just remove the easy-open end and follow the product-specific heating instructions provided by the brand. Choose the TruVue can to provide an uncanny customer experience and reveal the convenience benefits offered to your busy customers.
Manufacturing
Reinvent your brand without reinventing your manufacturing process.
The TruVue can runs on existing equipment, thereby minimizing additional investment, while providing your product and your brand the exposure needed to change a shopper's point of view – and change your brand's image in the process. This means no large capital expenditures, and seamless plug-in to continuous rotary systems, delivering similar throughput, which delivers great economics.
Manufacturing
High Performance Under High Pressure
One of the main reasons we were able to develop a plastic package that could withstand the high temperatures and high pressure environments in the retort process without overpressure, was that fact we utilize a 3 piece body construction—two ends and a core, while others have adopted a 2 piece construction.
The TruVue can has been proven to withstand temperatures to 265 degrees Fahrenheit, and pressures up to 10 psi. Sonoco FreshLock sealing technology exceeds the strength performance of conventional 2-piece plastic container double seams in high temperature/pressure cook processes; allowing for use in hydrostatic and continuous rotary retort operations.

Sonoco's can is a homopolymer polypropylene which enables it to handle much higher temperatures. This body combined with the 2 metal ends, allow the container to maintain shape with minimal deflection enabling it to withstand the pressure differentials associated with continuous cookers. TruVue uses a multilayer structure consisting of polypropylene & EVOH in order to achieve the high heat performance in the retort process and provide the necessary shelf-life required by customers. Our extrusion process has been proven to deliver superior performance in our adhesives and sealants business. It produces excellent layer distribution and overall thickness control, while minimizing scrap and running at high speeds. (the consistency of the layers in the extrusion process translates into better shelf life performance. Other plastic technology approaches create thin spots where barrier can be compromised.
Whitepaper
A Clear Solution for Choosy Shoppers
Shoppers today have more choices than ever before. And to stand out on crowded shelves in the center-of-the-store, brands have to do something that is clearly different. Packaging plays a big role in communicating brand values, merchandising appeal and differentiation. Clear packaging is taking that one step further.
 Learn how clear packaging is perceived by shoppers, and how it is impacting brand performance by providing a clear value.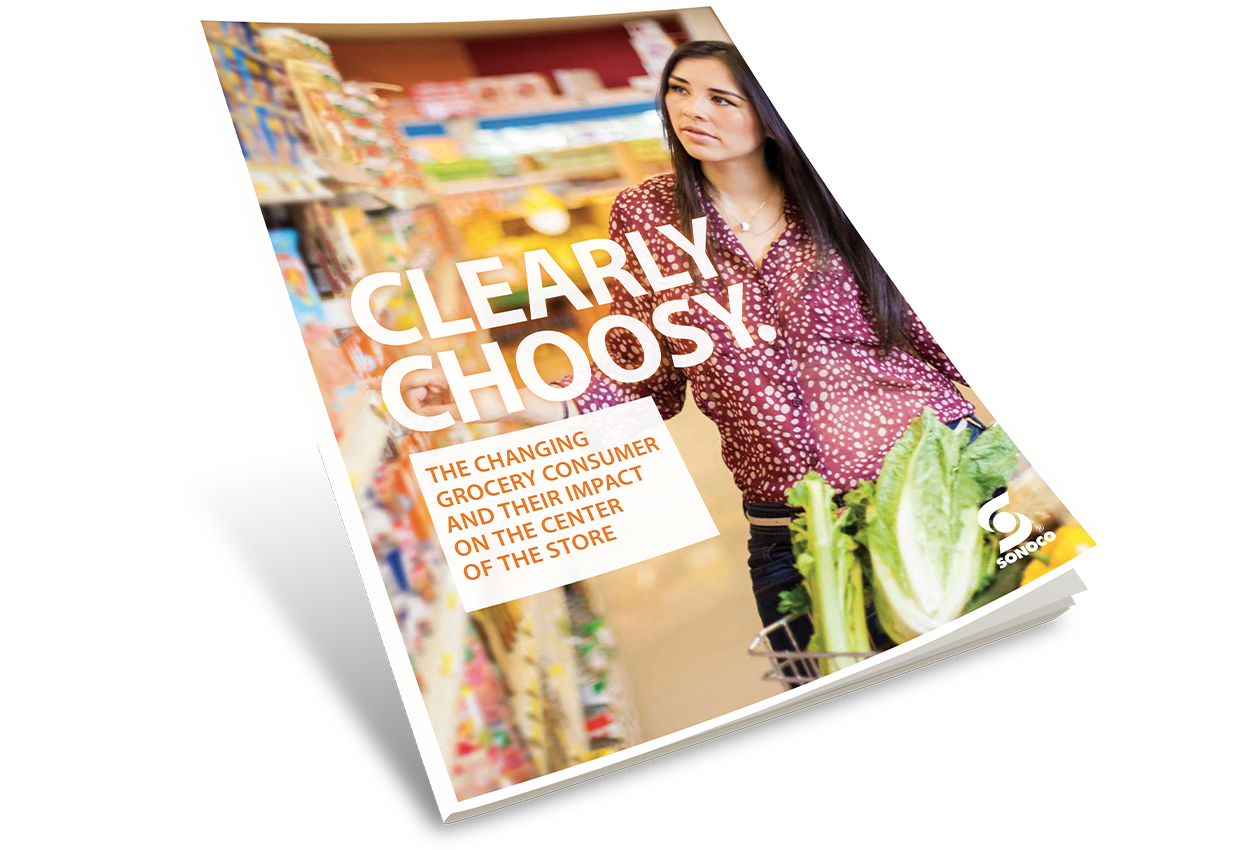 See what Sonoco can do for your business.