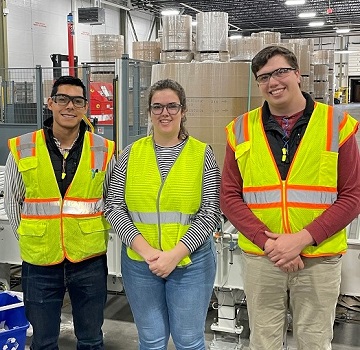 Sonoco's two-year effort to convert a decades-old corrugated medium machine into a state-of-the-art uncoated recycled paperboard (URB) producer pulled together people of varying backgrounds and skills. Junior engineers, especially, found themselves in some of the biggest roles of their young careers, managing training schedules, workflows and design plans. Their energy and enthusiasm led to personal growth and development and the success of one of the biggest investments in recent company history.
"There were several jobs that came up at other Sonoco mills throughout the duration of Project Horizon," said Sonoco Process Engineer Reid Mallette. "I could have applied to work somewhere else, but I did not want to miss out on the opportunity to work on Sonoco's biggest capital investment, an initiative that would greatly advance our company's sustainability efforts."
Mallette interned at Sonoco's Menasha, WI paper mill after earning her Chemical Engineering degree from the University of Alabama in 2018. She learned the ins and outs of product development, including sustainable material recovery. The experience led her to apply for a full-time position with Sonoco in Hartsville, SC after earning her Master's in Business Administration. She was excited about the opportunity to join the Project Horizon team when plans were announced in 2020.
Horizon helped Mallette develop as a project manager, leading training efforts for machine operators tasked with converting a corrugated medium machine into a low-cost producer of URB, made of 100% recycled material. She helped develop training presentations and standard operating procedures, and worked alongside a variety of vendors and contractors, educating herself about URB production and related equipment.
"The amount of responsibility Sonoco gave young engineers like me is unmatched," said Mallette. "I feel like not a lot of companies are giving such serious responsibilities to such relatively new staff. It was such a great opportunity, especially so early on in my career, and I'm extremely thankful for it."
Project Horizon kicked off amid the global pandemic, which forced team members to work through a series of challenges.
"Equipment took much longer to arrive due to supply chain issues," said Sonoco Project Engineer Steven Phillips. "These unexpected events delayed production, but we overcame adversity and worked together to support each other."
As a young engineer himself, Phillips helped with the new machine design and construction as a part of the Divisional Engineering Team. Phillips's team worked closely with Mallette's team to ensure the successful implementation of the new project process and equipment.
"I've built so many great working relationships," said Mallette. "There are so many young engineers in Hartsville right now, and we've really gotten close through all of this, partially due to the sheer number of hours we've spent working together, but also partially due to the fact that we like spending time together outside of work."
The comradery allowed Process Engineer Alejandro Alcantar to immerse himself in US culture. The Mexican native worked at Sonoco for five years after college, implementing Oracle database solutions at Mexican plants before moving to Hartsville to lead workflow management for Project Horizon. "The Hartsville opportunity not only developed my practical skills on the technical and management side, but it gave me an incredible cultural experience too," said Alcantar.
Mallette echoed Alcantar's sentiments. "Right out of college, I feel like I didn't know how to manage people," said Mallette. "Now I'm managing three employees and I think everything I learned working for Project Horizon is going to be really helpful in my new position as Senior Process Engineer with direct reports in Sonoco's Material Handling department."
"The experience to help automate our processes, lower our risk and improve safety is something I'm really passionate about," said Phillips. "We completed project horizon, the largest project in Sonoco's history, without any injuries to Sonoco employees, which I am proud to be a part of."
Mallette and Phillips worked alongside several young engineers in Hartsville. Mallette's team included Lindsay Leonard, Alex Cothran and Kable Young. On the Divisional Engineering Team, Phillips worked with Matthew Amerson, Chris Stryffeler and Logan Perkins. All team members joined Sonoco within the last five years and played integral parts in the success of Project Horizon.
Sonoco's newly converted 'Number 10' machine became operational at the end of 2022. The mill produces nearly a third of the company's US and Canadian URB. It's expected to produce an annual savings of $30 million by 2024 with significant reductions in electricity consumption, greenhouse gas emissions and water usage. To learn more, read this tech blog.