Paper Mill Cores
Setting the standard for paper mill packaging performance.
Sonoco provides a complete line of quality products and services tailored specifically to the exacting needs of printing and writing, newsprint, tissue, paperboard (bleached and unbleached), pulp, nonwoven and specialty grades of paper.
HQ® Paper Mill Cores
Sonoco is the leading provider of cores for all printing- and writing-grade core applications. Our HQ series of cores is designed for high-speed rotogravure and offset printing presses, as well as all other high-performance applications. We offer a full line of additional printing- and writing-grade cores customized to meet your specific applications, including sheeter cores for internal and external cut-size operations.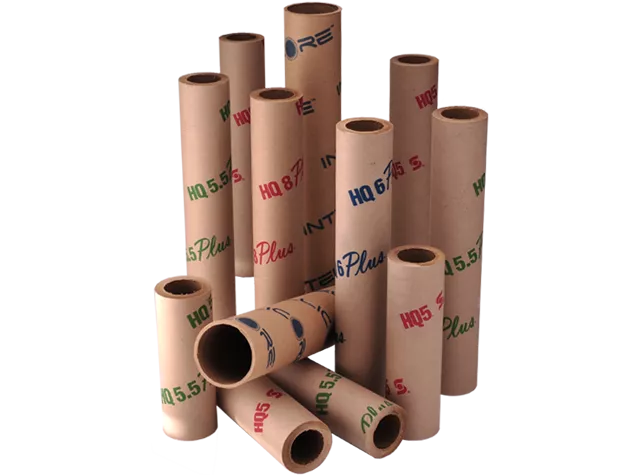 Pulp/Non-Woven Cores
Sonoco is the leading provider of quality cores for rolled pulp and nonwoven materials. Our vast range of core sizes and features are designed to meet your specific application and assist you in lowering total costs.
Pre-Cut Cores
Sonoco's unique pre-cut core service for paper mills has delivered lower costs and improved operations for years, and now uses a just-in-time delivery system.
Newsprint Cores
By combining experience and technology, Sonoco provides the industry's best cores for newsprint and directory grade applications. We offer special end finishing options, including metal ends, metal inserts, notching and beveled cores.
Metal Core Ends
Sonoco offers a complete line of metal caps and inserts for virtually all paper mill core needs—newsprint, super-calendered, coated and lightweight coated paper applications. Standard configurations include full metal caps and sleeves (inserts), both with formed keyway. All provide maximum protection and torque capacity.
Towel and Tissue Cores
From high-performance, large-diameter parent cores for master rolls to small, cost-efficient, lightweight consumer rolls, Sonoco has the towel and tissue industry covered. Consistent quality, unique features and technological advances enable us to provide a full range of cores that meet your specific needs for all core applications in towel, tissue and hygiene paper industries around the world.
Paperboard Cores
More than 114 years of experience enables Sonoco to provide the highest quality cores for linerboard and bleached board applications, while keeping costs down. We offer a full range of cores with customization available for unique applications.
Related Equipment
Sonoco customers understand the value a full-service provider can deliver. That's why Sonoco offers a wide range of paper mill core equipment and related services.
See what Sonoco can do for your business.