Recycling Program
Committed to the environment. Committed to our customers.
A world leader celebrating a century of recycling, Sonoco Recycling collects nearly 3 million tons of paper, plastic, metal and other materials annually.
Already have a partnership with Sonoco Recycling? Log in to your account here.
Going green is good for business.
Today, we operate more than 40 recycling facilities globally and help more than 15,000 retailers, manufacturers and communities save money, save resources and create clean, renewable energy.
Whether you're trying to divert more waste from landfills, shrink your environmental footprint or create new revenue streams, we can help. Our teams work to understand your specific needs and goals, tailoring solutions that add real and lasting value to your business and community.

Recycling Facilities
Sonoco Recycling Locations
With over 40 processing facilities throughout the US and Europe, it's convenient to work with Sonoco for your national and regional recycling needs.
Our Process
Learning & Discovery

Setting Goals

Defining Opportunities

Crafting Custom Solutions

Supporting & Measuring Success
Learning & Discovery
We always begin with a holistic review of your company's or community's existing waste management practices to ensure we design solutions based on where you are—and where you'd like to go.
First, we make a thorough assessment of your existing raw materials and processes to gather data and gain understanding.
Recycling Education
Recycling Resources for Students and Communities
When you learn about recycling, you're learning how to make the world better now and forever.
As part of our mission to change the way people, companies and communities think about recycling, we actively share our ever-expanding knowledge and resources with teachers, students, homeowners, businesses and municipalities.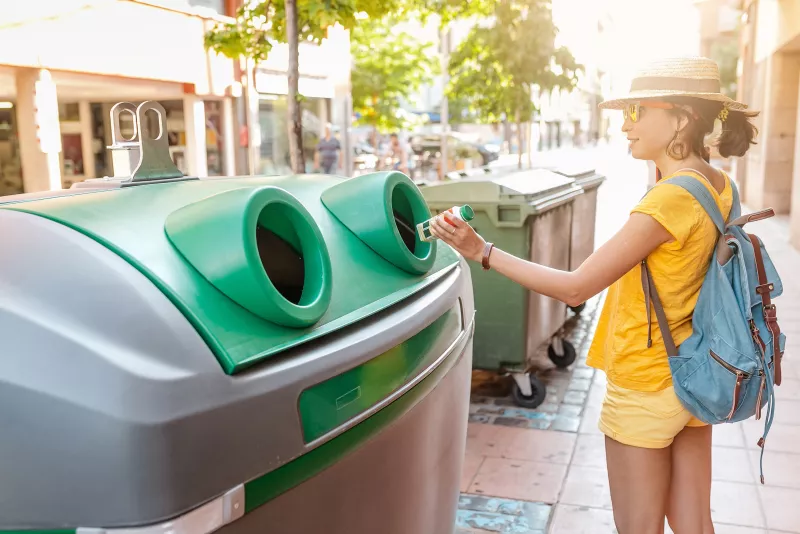 Sustainability
Our Commitment to Sustainable Business Practices
Taking a holistic approach to sustainability yields environmental benefits and gives Sonoco Recycling a competitive edge. We're both a producer of sustainable packaging and part of the recycling supply chain that gives those items a second life.
Knowing the ins and outs of a package's life cycle helps us help you reach environmental and business goals.
Recycling Solutions
Connect With Sonoco
Learn more about recycling services and how Sonoco can work with your organization to craft full-service, tailored recycling solutions.