EnviroSense® PaperBlister™ Packaging
Increase Efficiency While Reducing Environmental Impacts
Easier to nest and stack, the lightweight all-paper blister package uses less material than thermoformed plastic blisters and allows more packages per truckload, helping to reduce shipping costs and decrease your environmental footprint.
Protecting Products – and the Planet
PaperBlister packaging is the latest addition to Sonoco's growing assortment of EnviroSense® packaging solutions. Designed with tomorrow in mind, EnviroSense packaging is purposefully engineered to deliver a host of earth conscious attributes including recyclability, recycled content, reusability, compostability, packaging optimization, bio-based content and responsible fiber sourcing.
A Cut Above

PaperBlister packaging increases the amount of space available for graphics, promotional messaging, product instructions, safety information and unique die-cut windows. Die-cut windows give consumers an advance look at the actual product (versus relying on a picture), allowing them to verify the product's authenticity and establish an immediate sense of trust. The use of more creative and strategically placed die-cut windows is allowing manufacturers to highlight their products in new and interesting ways.

Seeing is Believing

With a die-cut window on the front of your product's PaperBlister packaging, consumers can start appreciating your product's value immediately. In fact, studies show that windowpane cutouts have a favorable impact on product choice, trustworthiness and sales. According to Mintel, die-cut windows draw curiosity and attention and allow consumers to become more familiar with your product. Some companies (e.g., cosmetics) use die-cut windows to give their products a more premium look. Others use them to help establish a unique brand identity. What's more, giving consumers an up-close and personal look at your products can simplify the decision-making process, resulting in faster sales.
Paper Blister/Plastic Blister Comparison Chart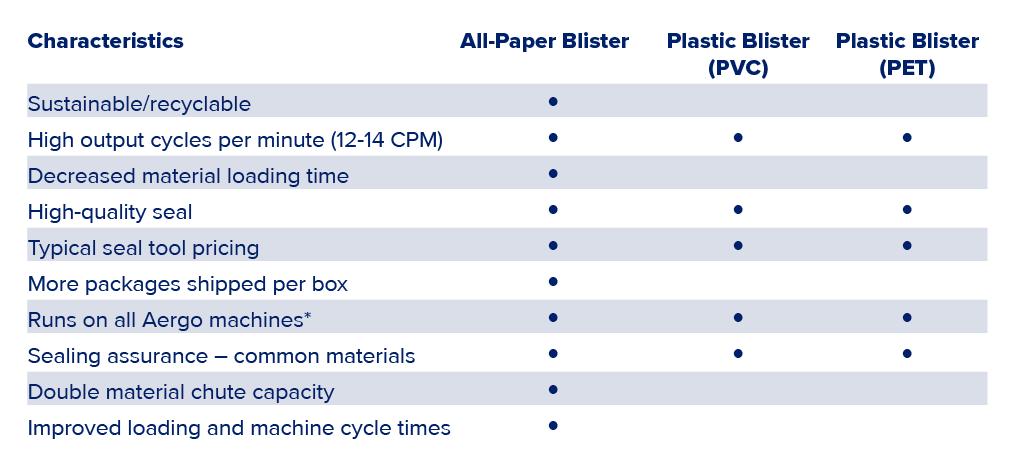 *Carousel, SL and non-Aergo machines require evaluation prior to retrofitting.
Contact Us

Have a general question?
Need a sealing machinery quote?
Want to learn more about Sonoco Alloyd design, print or tooling offerings?
Drop us a line at the link below and we will get back to you within one business day.

Need Help with Existing Equipment?

Our dedicated in-house parts and service team is available to provide support for all your existing machinery & tooling needs. Please call 888-756-7864 or click below to be connected with someone on the team.