EnviroCan™
At Sonoco, we're committed to producing the right packaging for a better world.
Contact Us
Achieving Maximum Recycling Potential
All-In On Recycling
To expand recycling of paper containers with steel bottoms, Sonoco's sustainability team launched a comprehensive MRF trial study in 2020 to prove this packaging can be processed through the steel recycling stream across North America.
Download our whitepaper to learn how up to 135,000 tons of paper containers with steel bottoms can be diverted from landfill.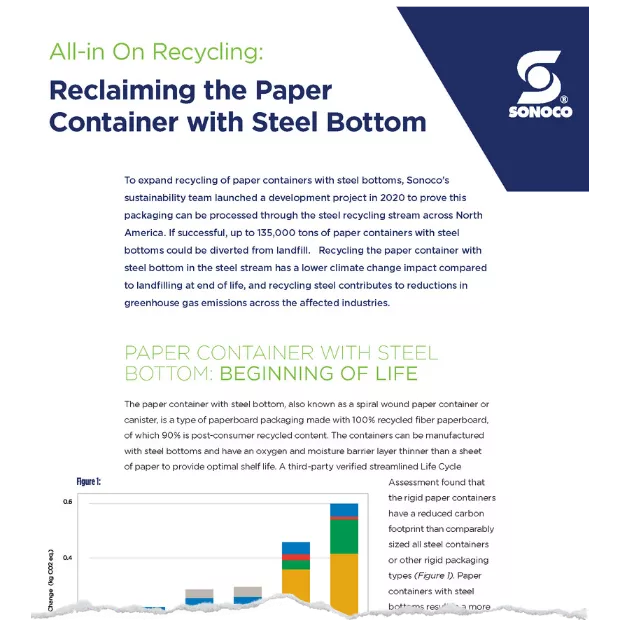 Yes We Can!
The design of Sonoco's EnviroCan™ allows it to meet a brand's ongoing challenge of balancing responsible materials sourcing with product and food safety.

Our flagship container – a paper container with a steel bottom – not only meets the performance needs of the markets we are committed to serving, but it can also be recycled. The can body is made of 100% recycled fiber, of which 90% comes from post-consumer sources.

The design of EnviroCan™ allows it to be recycled in the steel stream in the U.S., and EnviroCan™ is eligible for the relevant recycling label in Canada.

But today, we face a new challenge. Unfortunately, many consumers don't have access to recycle EnviroCan™ through their municipal recycling programs, meaning our paper container, like many other packages, is under-recycled.

The North American recycling industry needs partnerships, investment and commitments from the industry to impact significant change. Sonoco is committed to reducing packaging's negative impact on our world with ongoing efforts to increase the recycling rate of EnviroCan™ through both the paper and steel recycling streams.

Through internal investments and external partnerships, Yes, we can succeed. To learn more about EnviroCan™ or to order, contact 360solutions@sonoco.com.