Meet the team putting together Sonoco's vision for a better tomorrow.
People build businesses, And our people are serious about sustainability. The breakthroughs Sonoco continues to produce in the sustainability of both our packaging products and our business processes aren't by accident. They're the result of intentional partnerships, a wide range of viewpoints, and incredible expertise brought together for the greater purpose of building a more sustainable future. 
Meet the Team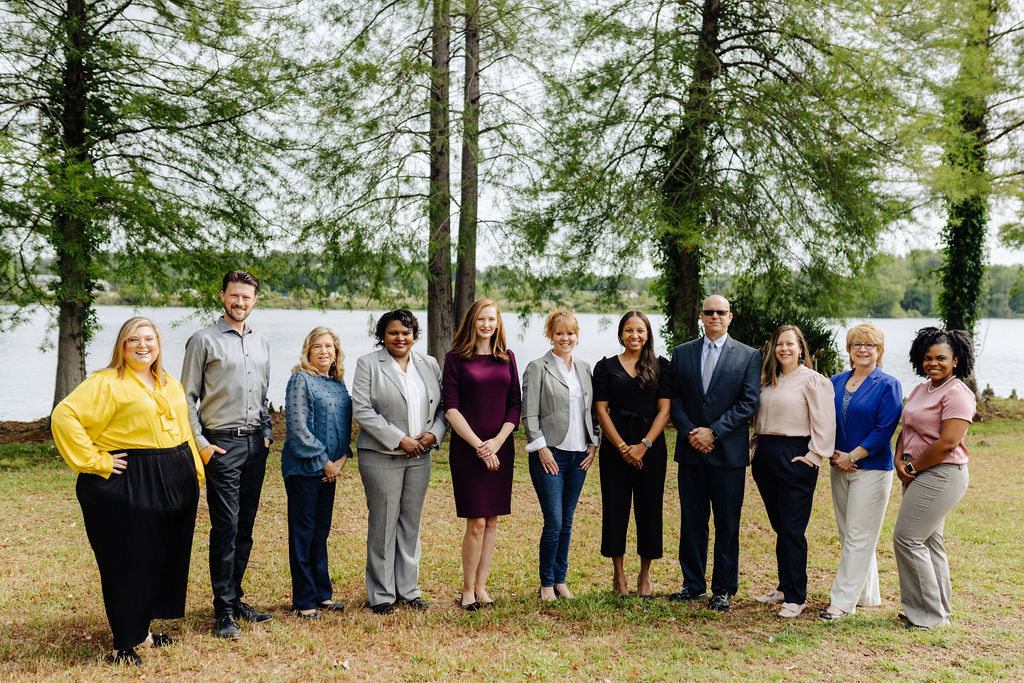 Elizabeth Rhue
Elizabeth Rhue, Vice President, Global Environmental, Sustainability & Technical Services, is responsible for leading Sonoco's global sustainability strategy for all of the Company's Consumer- and Industrial-related packaging businesses, including working directly with Sonoco's key customers to achieve improved product sustainability. Rhue is also responsible for ensuring Sonoco meets its global corporate commitments related to both product and operational sustainability.
"As our sustainability journey continues to evolve, we have opportunities to leverage the synergies between our sustainability and environmental teams to create a more comprehensive, multi-pronged approach to sustainability. Today, we are better positioned to capture the expertise that already exists throughout our company and intensify our focus on our products, our infrastructure as it relates specifically to end-of-life for our packaging, as well as improving our operational footprint and continuing to invest ourselves into key partnerships."
Scott Byrne
Scott Byrne serves as the Director, Global Sustainability Services at Sonoco, a global packaging solutions leader, committed to improving the lives of customers, teammates, and communities. With his extensive background in all aspects of environmental management and sustainability, Byrne helps ensure Sonoco is on the cutting edge of sustainability initiatives. 
"The best part of working in Sustainability is that you will never get bored. Sustainability is not a static destination, but a dynamic journey that takes into account changes in technology, consumer preference, and government mandates. While it can be frustrating to tell a stakeholder that "it depends," is the answer to their sustainability questions, it is rewarding to begin to dive deeper into those questions and to identify what is really at the core of their sustainability needs and then to brainstorm the best solution and future possibilities. I've been around the sustainability function long enough to watch it evolve from a nice to have to a must-have and I've gotten to be a part of that journey for a number of great companies."
Brittney Carithers
Brittney Carithers is a Sustainability Specialist at Sonoco. Her primary responsibilities include helping complete customer sustainability surveys, fulfilling central office responsibilities for our triple Chain of Custody fiber certification program, providing sustainability education to the global business, and coordinating customer education. 
"The field of sustainability requires consistent focus on optimization and education. It's a cunningly creative field and incredibly rewarding for compulsive problem solvers. I am very proud to be a part of a team that is using those talents to directly impact sustainable solutions across the industry."
Liz Ernst
Liz Ernst is a new edition to the global Sonoco Sustainability team. Her role focuses on life cycle assessment (LCA) and sustainability analysis of Sonoco products and designs, as well as education about LCA applications for packaging. Previously transitioning from academia, Liz was working as a doctoral candidate at the University of Helsinki in the Future of Sustainable Food Systems research group.
"As we develop a deeper understanding of how our global actions as individuals and corporations contribute to anthropogenic climate change. Life cycle assessment is one of the best tools we have to understand the impact our choices can have on the environment. I was first introduced to life cycle assessment as a grad student on a research exchange in Finland. I decided then to complete a full LCA for my thesis on novel packaging technology in 2019. Since then, my professional world has been centered around sustainability and life cycle assessment. As it is a newer methodology, there are always new developments and standards emerging in the field. Capturing real-world processes accurately, properly quantifying data, and communicating actionable results can be both extremely challenging and rewarding. Being a small part of an industry landscape that is working for a more sustainable tomorrow is really fulfilling."
Sabrina Dixon
Sabrina Dixon-Ridges is the Director Business Strategy Alignment – Global Sustainability at Sonoco Products Company, a global packaging solutions provider. She is responsible for developing and executing strategies to improve product sustainability for business groups' portfolios. As a strong proponent for End-of-Life solutions, Sabrina champions initiatives to advance circularity through mechanical and chemical recycling by partnering with NGOs, material councils, and consortiums.  
"I am passionate about improving product sustainability, whether through developing new products, better leveraging existing infrastructure, or partnering with key associations and stakeholders. It's important to explore beginning-of-life and end-of-life solutions that positively impact the carbon footprint. It's also important to weigh package performance, shelf life, shelf presence, and product integrity alongside recyclability to create the optimal product sustainability solution."
Michael Pratt
Michael Pratt currently holds the role of Senior Sustainability Specialist at Sonoco Products Company, a global packaging solutions leader, committed to improving the lives of customers, teammates, and communities. In this role, Michael has primary responsibility for supporting Sustainability efforts for all of Sonoco's North American divisions including consumer, industrial, and protective packaging, and also helps advise on industry trends. 
"A major piece of the recycling process for Sonoco, and the packaging industry as a whole, is understanding not only what is possible theoretically, but what actually happens in practice and at scale at material recovery facilities and reclaimers across the country. Part of the way we do that at Sonoco is by keeping end-of-life at the top of our mind during our design process as we work on packages that will be on shelves in the coming years. Not only do we stay up to date with industry best design practices, but we are members of many committees that are working diligently to develop them. We are also proud to partner with external MRFs, sorting equipment suppliers, paper mills, and plastic reclaimers to conduct trials to put our theories to the test. During these trials, we are able to understand the impact each piece of sorting or processing equipment has on our package and ultimately how suitable the package is for the given process. We then use the information to validate our designs or take the data back to our design teams where the next improved version can be developed."
Michelle Jeffords
Michelle Jeffords is the Business Development Manager for Sonoco's Global Sustainability efforts. She is currently leading the circular economy strategy and outreach to improve total access to recycling for multiple packaging formats. 
"I am extremely proud to be a 4th generation member of the Sonoco family and now part of a new team that truly walks the walk in terms of sustainability on behalf of the Company. Every day is exciting as I get to bring awareness to MRFs and municipalities regarding the circular economy potential for Sonoco's packaging formats. It is so important that we move away from the linear model and capitalize on all opportunities to capture historically under-recycled structures, and the Sonoco team has done the work and has the data to validate our findings. Contact me if you're interested!"
Cassandra Snelling
Cassandra Snelling, Marketing Manager of Global Sustainability, is responsible for the development and execution of Sonoco's global sustainability marketing and communication strategy. This includes not only the external audience across Sonoco's global Consumer, Industrial, and Healthcare segments but internal programming and messaging for employees located all over the world.
"Sustainability is more than a number. It's the people who work hard every day to ensure we achieve our goals. From our janitorial staff ensuring our facilities are clean and well maintained to our production line, quality, design engineers, and leadership, we all play a vital part in creating sustainable solutions for our products, manufacturing facilities, and offices. I get to share their stories."
Skye Oudemans
Skye Oudemans, Sustainability Manager Europe, joins the team with a history of experience in several global markets, including most recently as Senior Sustainability Executive for the UK-based Food & Drink Federation, where she worked with brand owners and trade groups, legislators, and other key stakeholders on key packaging sustainability issues . With a Distinction in Food Security from the University of Warwick, Coventry, Skye is well equipped to help lead the future of sustainability across the European food and beverage packaging landscape.

"I'm joining the Sustainability Team to support our external engagement activities in Europe. This includes representing Sonoco in trade associations and collaborative groups, monitoring and influencing policy and regulatory changes, and supporting business alignment and communications."
Edward Harrington
Ed Harrington, Global Environmental Director, is responsible for environmental performance and compliance at all Sonoco locations including paper mills in North America, South America, Europe and Asia. Before joining Sonoco in 2015, Ed worked in various environmental, technical and operations roles. He is Vice-Chair of AF&PA's Environment Policy Committee and a member of the NCASI Operating Committee.
"Sonoco is continually investing in our paper mill water systems to reduce the amount of water used and to improve the quality of the water being discharged. Major wastewater treatment upgrades have recently been completed in several plants across Europe and North America, and we have projects currently underway to increase the amount of water being internally recycled within the paper making process in a couple of South American facilities."
Peter Görlitz
Peter Görlitz, Sustainability Manager Europe, advises the company on a balanced approach to all aspects of key environmental issues while driving a shared understanding of the sustainability journey with every Sonoco employee. Peter also interfaces  with customers as well as other key stakeholders, representing Sonoco in a number of external trade assocations in Germany and Europe, at large.
"I try to find answers to questions like: What do we have to do to offer more sustainable packaging? And what is the definition of sustainable packaging in the first place? Anyone who wants to be involved in sustainability management should be curious about the bigger picture, so to speak. Sustainability is based on the idea of balance and preservation, while taking into account environmental, social and economic aspects."
Sonoco Sustainability Liasions
With a variety of environmental, economic, and social issues impacting sustainability efforts around the world, Sonoco leverages Sustainability Liasions in key geographic regions to ensure our sustainability messaging is consistent across markets and cultures. 
Mariangela Jacomo (South America)
Yu Sen Long (Asia)
Jesus Calderon (LATAM)