PureShield®
As the world's population grows, so do the opportunities for powdered infant formula brands that communicate quality, security, integrity and trust. And if you can do that in a cost-effective way, you have a real formula for success.
350,000
Babies are born every day.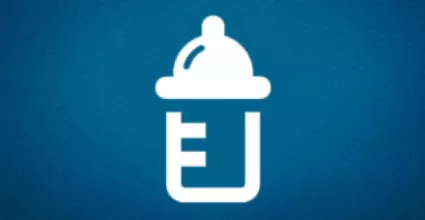 8.2 billion
Projected global population by 2029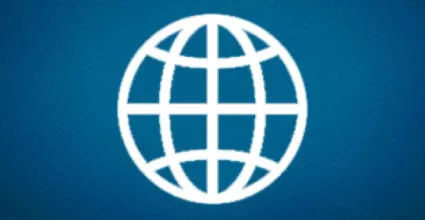 10.1%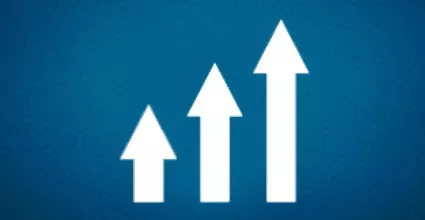 Capture your share of the growth in today's crowded retail marketplace.
The world's current population of 7.2 billion is projected to increase by one billion over the next 12 years —reaching 9.6 billion by 2050. With approximately 350,000 babies born each day around the world, the future looks bright for powdered infant formula. In fact, the projected CAGR is expected to reach 10.1% by 2026.
To capture your fair share of this growth in today's crowded retail marketplace, you need every advantage you can get. That means finding unique ways to visually stand out on the shelf, while also delivering functional benefits to engage consumers and keep them coming back for more. And all the better if you can do all this while maintaining or decreasing your manufacturing costs. Our new PureShield® paper container helps you do all that and more.
Once a challenge. Now an opportunity.
The packaging of powdered infant formula involves the use of Modified Atmosphere Processing Systems (MAPs) that remove oxygen and replace it with inert gases. Oxygen promotes deteriorative reactions in food powders that lead to negative effects like the loss of nutritional quality. Inert gases such as nitrogen or a mixture of nitrogen and CO2 help to extend the formula's shelf life and prevent spoilage due to oxidation.
Pre-Gassing
Pre-gassing is the process of gas replacement throughout the filling process, beginning prior to filling. Pre-gassing systems are designed to provide product with low and controlled residual oxygen levels to the packaging machines. Sonoco paper containers have been proven to perform in pre-gassing systems for powdered infant formula.
Post-gassing
Post-gassing is the process of gas replacement after filling. These systems have very low gas consumption and require highly specialized technology since oxygen is removed directly from the filled package. In its existing structure, the paper container could not be run on a post-gassing system... until now.
The Science Behind the Solution
Now, Sonoco's PureShield® solution allows you to stand out from the crowd even with a post-gassing system, without the need to invest in new filling equipment. PureShield® combines the product performance of a high-strength paper container with a patented gas channel end designed to allow gas exchange during the filling process, all while withstanding the vacuum pressures of post-gassing filling.
The added benefits of PureShield® include:
Runs on existing post-gassing assets
No change is required to current batch vacuum-flushing process
Capable of maintaining current line speeds
No increase of N2 consumption
Minimal changes required to conveying and seaming equipment
Achieves residual O2 below 2%
PureShield® Features
1) FUNCTIONAL HINGED OVERCAP
Includes scoop management and leveling feature for accurate dosing
2) MEMBRANES
Variety of options available, including easy-open (EZO)
3) LINERS
Protective laminate structure for moisture and oxygen barrier
4) BODY PLIES
Recycled fiber content and structural rigidity for impact, implosion and crush resistance
5) LABELS
Smooth printing surface for premium graphics; optional anti-counterfeiting technologies incorporated
6) GAS CHANNEL BOTTOM
Compatible with post-gassing assets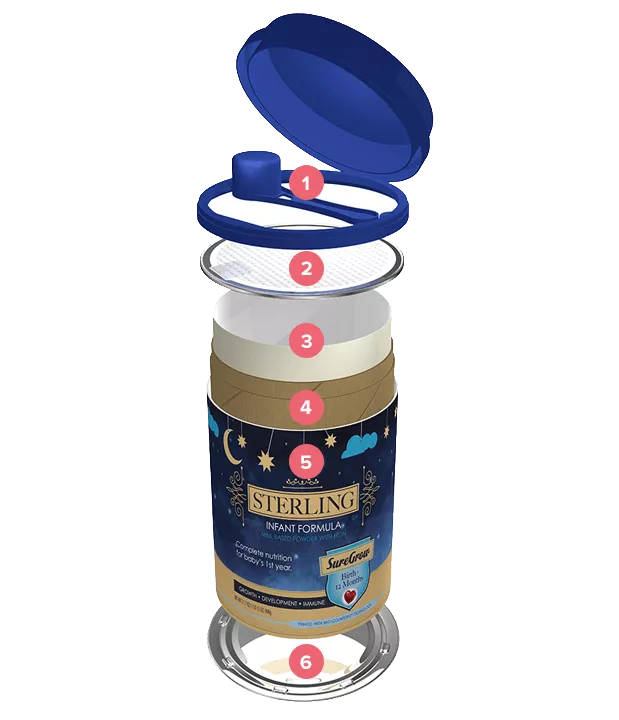 Performance in the Store
Customize PureShield® with an array of convenience and security features.
A premium label for enhanced shelf presence, with clear graphics and paper/printing options including matte, glossy, pearlescent and metallic inks; kraft/natural paper; embossing; holographic details; and integrated coupons
Anti-counterfeiting printing technologies and inks integrated into the label artwork, for reassurance of authenticity.
A fully adhered label enclosed within the seamed package that is impossible to remove.
Customizable ends, including our Level-Rite® membrane, Safe-Rim® easy-open end, Ultraseal® membrane and Sealed-Safe® membranes. Our paper Sealed-Safe membrane is unique to Sonoco, serving as an additional authentication measure. And our D-shaped Sealed-Safe membrane builds in a leveling feature for added function, even without a functional overcap.
Performance on the Plant Floor
Improved safety due to quieter, safer package on lines*
Less wear and tear on equipment, saving maintenance costs associated with labor, parts and downtime*
High-speed packaging
Potential reduction in shipping costs: potential package weight reduction*
The Formula

Personality

Protection

Performance
A Formula for Success = Personality + Protection + Performance
In today's competitive environment, three advantages are always better than one, and that's especially true when it comes to the powdered infant formula market. Your package has to uniquely present your brand, ensure the integrity of your product and deliver performance advantages that enhance your manufacturing and your marketing. PureShield® delivers a winning formula you can count on.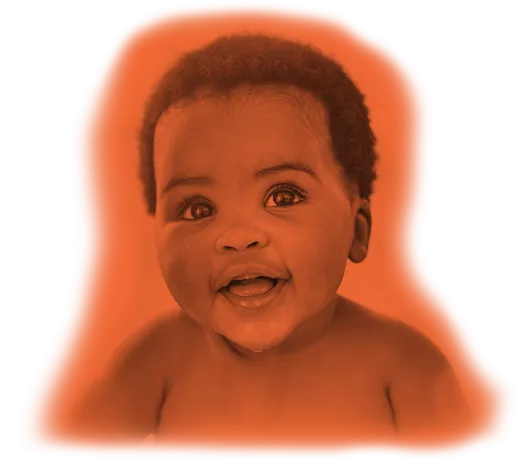 WhitePaper
Get more information.
Complete this form to request more information about Sonoco's PureShield® PIF packaging solution and to download our whitepaper. We're looking forward to putting the industry's largest packaging portfolio to work for you.