Ink Cartridges
A new standard for dispensing high-value fluids.
A new standard for dispensing high-value fluids.
Now more than ever, professionals responsible for saving costs and improving outcomes in printing processes, cosmetics and paint colorants need brighter ideas for storing and dispensing ink and other flowable products. Flowable products from Sonoco offer you more convenience, cost savings and better performance, hands down.
We innovate packaging regardless of material or discipline to fit your needs for improved storage and dispensing of ink, cosmetics, paint colorants and other high-value, high-viscosity liquids.
Save ink, time and labor costs.
The old-school method of having to spatula ink from a metal tin wastes up to 20 percent of the ink you buy. It's also inefficient for your press operators, who must focus on ink refill many times during production.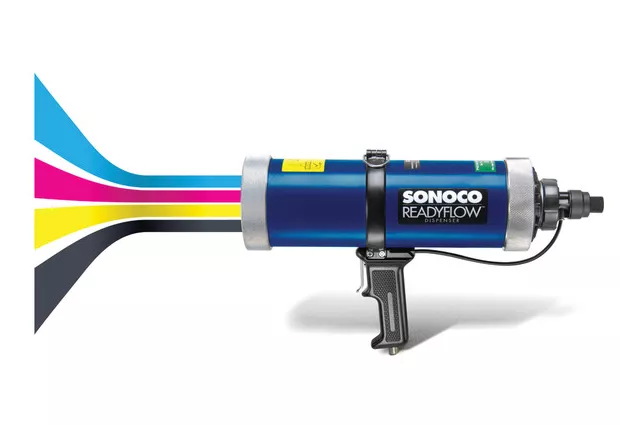 Flow-Rite Ink Cartridge Products
Ink cartridges in the Flow-Rite family use more than 98 percent of your ink, and only have to be changed once during a run, saving operators valuable production time. Now each operator can watch more presses, reducing total costs and increasing productivity.
Only need a little ink? Simply close the nozzle after the amount you need has been dispensed. Partially filled cartridges may be easily stored until that color is needed again. What's more, Flow-Rite cartridges can be filled with any offset ink as well as UV or varnish coatings.
Flow-Rite Original Cartridges

Flow-Rite Crown Cartridges

Flow-Rite Crown XL Cartridges

Flow-Rite Exact Cartridges

READYFLOW® Ink Dispensers
See what Sonoco can do for your business.