Sonovoid® Concrete Forms
Sonovoid round concrete void forms are an economical solution to constructing roof slabs, bridge decks, beams, piers and pile projects without sacrificing structural integrity or strength.
Sonovoid Concrete Forms
Innovative & Cost-Effective Round Forms
Made from Sonoco's own recycled paper and adhesives for superior strength, Sonovoid Round forms are engineered for use with cast-in-place and pre-cast concrete. They reduce the amount of concrete, steel and supporting members needed in a project, resulting in significant savings in material.
Interior and exterior surfaces are treated for protection against weather and moisture. Plastic end closures for common sizes are available.
Durable
Sonovoid round void forms boast exceptional durability for consistent high performance.
Versatile
Many standard and custom diameters and lengths are available to meet your individual requirements.*
*Lengths are governed by accepting industry tolerances.
Sustainable
They are made from recovered paper, creating no landfill waste.
Size and Spacing Chart
| Outside Diameter (inches) | Maximum Support Spacing | Maximum Spacing Between Hold Down |
| --- | --- | --- |
| 6.00 - 18.00 | 4' O.C. | 18" from end of tube, then every 4' |
| 18.70 - 22.85 | 3' O.C. | 18" from end of tube, then every 3' |
| 24.85 - 36.90 | 2' O.C | 12" from end of tube, then every 2' |
Download Sonovoid Product Literature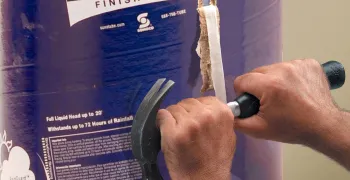 Sonotube Finish Free®
Our Finish Free concrete tubes have a marble-like smoothness, and they don't require patching, cladding or finishing labor.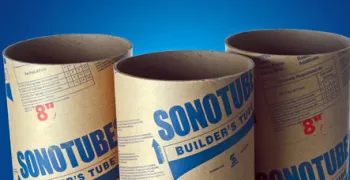 Sonotube Builder's Tube®
Perfect for do-it-yourself types working on decks, playgrounds and fences, these forms can withstand the pressure of concrete.
Contact Us
Connect With Sonoco
Whether you're a distributor, architect, or contractor, contact us to discuss your needs.