Did you know that 95% of new products fail and an estimated 70%-80% of grocery store products fail?
Take New Coke or Tropicana orange juice in an orange-less carton, for example. These products launched from large companies with wonderful marketing teams but still struggled to sell. To ensure product success, you need a consumer-focused concept that also clearly communicates the product's standout attributes.
Conducting consumer research about product messaging will help catch the eye, ensure clarity and confirm you're addressing points consumers care most about. If you want to ensure you have both a good idea and a great seller, The Hive℠ Design Services can conduct custom research programs such as our recently completed study of on-pack claims for new leafy greens packaging.
Green Claims for Greens
Sonoco's new leafy greens packaging swaps the traditional plastic clamshell lid for a film with pressure sensitive adhesive to provide a secure reclose. With this technology, we have a number of sustainability claims we can place on the packaging.
Leafy Greens Packaging Sustainability Claims:  
Produces 54% less waste
Uses 38% less water
Has 46% less impact on ozone depletion
Has 40% less impact on climate change
Uses 35% less plastic
While we can make all the above claims, it's not wise to overwhelm shoppers with every single claim that a more sustainable packaging boasts. To combat this, The Hive conducted an online survey to understand consumer behavior around recycling and what claims are most important to them.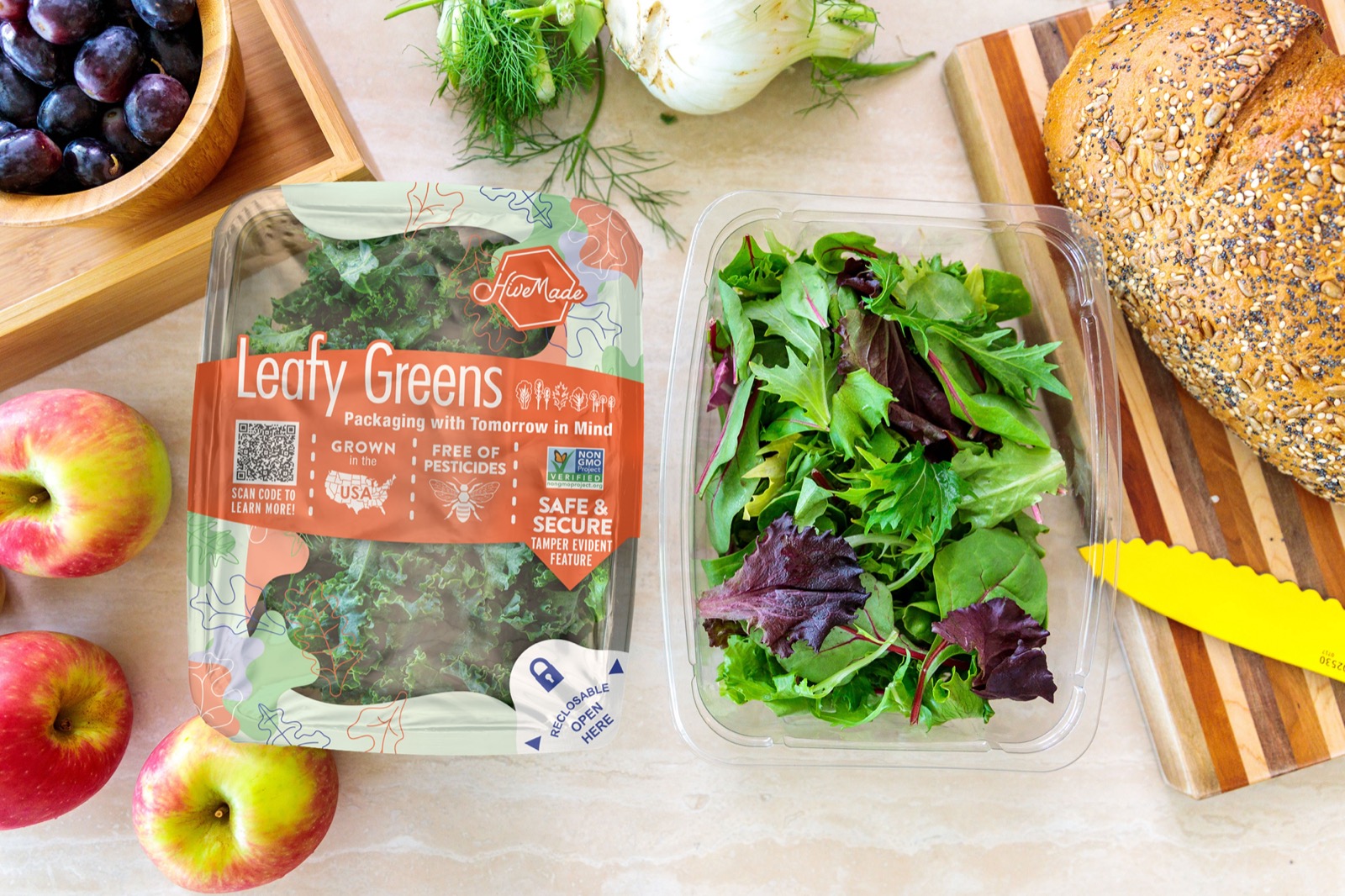 Sustainability Claims Research Results
After analyzing data from the 800 respondents, The Hive's Burke Institute-certified researchers unearthed consumer opinions related to the leafy greens packaging claims.
Consumer Opinion about Leafy Greens Packaging Claims:
Nearly 2/3 of respondents try to recycle and reuse as much as possible.
Reducing waste and plastic usage is the most important environmental issue presented.
Respondents try to be sustainable by reusing or upcycling product packaging, buying products made of recycled material and buying local products.
Of the claims presented, "produces 54% less waste" was the most important to respondents. Respondents also identified this claim as most likely to make them purchase more of a brand's product.
More than 71% of respondents are willing to pay more for a brand that uses more sustainable packaging, such as packaging using less plastic.
How Can The Hive℠ Help?
Our research, design, and development experts at The Hive are capable of fulfilling wireframe, 3D rendering, prototype, mockup, and sample requests. The Hive Design Services can also design custom research programs to uncover your customers' brand connection, preferences, packaging pain points and usage behavior, while revealing themes that you can use to build your strategy for enhancing consumer and shopper engagement and enhancing brand loyalty. Our certified moderators, research and packaging specialists will build the qualitative and quantitative studies you need to test your concepts at scale, from insights to prototyping. For more information on how we can help you convert insights to opportunities, email us at TheHive@sonoco.com or visit our page.