A new standard for dispensing high-value fluids.
Now more than ever, professionals responsible for saving costs and improving outcomes in printing processes, cosmetics and paint colorants need brighter ideas for storing and dispensing ink and other flowable products. Flowable products from Sonoco offer you more convenience, cost savings and better performance, hands down.
We innovate packaging regardless of material or discipline to fit your needs for improved storage and dispensing of ink, cosmetics, paint colorants and other high-value, high-viscosity liquids.
Save ink, time and labor costs.
The old-school method of having to spatula ink from a metal tin wastes up to 20 percent of the ink you buy. It's also inefficient for your press operators, who must focus on ink refill many times during production.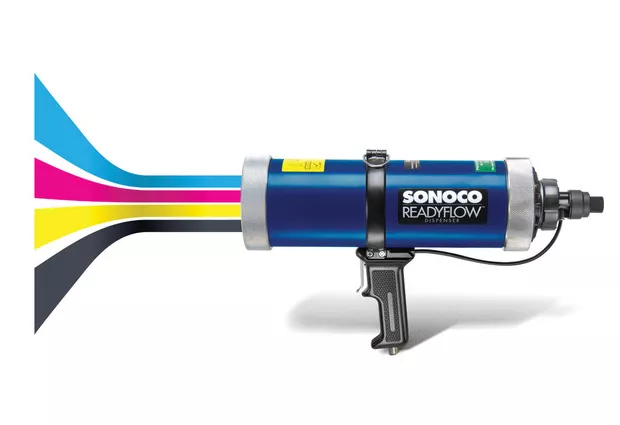 Flow-Rite Ink Cartridge Products
Ink cartridges in the Flow-Rite family use more than 98 percent of your ink, and only have to be changed once during a run, saving operators valuable production time. Now each operator can watch more presses, reducing total costs and increasing productivity.
Only need a little ink? Simply close the nozzle after the amount you need has been dispensed. Partially filled cartridges may be easily stored until that color is needed again. What's more, Flow-Rite cartridges can be filled with any offset ink as well as UV or varnish coatings.
Flow-Rite Original Cartridges

Flow-Rite Original Cartridges

Sold in 5- or 8-lb. sizes, depending on ink density, the Flow-Rite Original ink cartridge was designed for us in Pamarco Sentinel® Ink Management System. The dispensing top nozzle has a pull-to-open, push-to-close feature, and comes with a spout used to keep the Sentinel system clean.

Like all Flow-Rite cartridges, it has a wipeable laminated outside label, 100 percent recycled spiral wound paperboard wall, and an HDPE foil inner liner, which serves as the oxygen barrier ply.

Flow-Rite Crown Cartridges

Flow-Rite Crown Cartridges

The Flow-Rite Crown ink cartridge is designed for viscosity extremes and may be used in the Sentinel Ink Management System or the Sentinel hand gun. It's available in 5- or 8-lb. sizes. The dispensing top has a valve that opens and closes when pressure is applied to the plunger.

The crown-shaped spout directs the flow of ink past the end of the hand gun or the base plate of the Sentinel system. Peaks in the design help to quickly release the ink from the spout into the well, with little residual ink remaining in the spout.

Flow-Rite Crown XL Cartridges

Flow-Rite Crown XL Cartridges

The advanced technology of the Flow-Rite XL Crown ink dispensing cartridge is designed for heavier ink coverage applications. Its 12-pound capacity ensures more continuity on press with canister-based inking.

It combines Sonoco's composite body technology with add-on plastic spout extenders and plunger designs and a patented sealing process. The result is an airtight ink dispensing and storage cartridge that ensures extended shelf life and superior on-press performance.

Flow-Rite Exact Cartridges

Flow-Rite Exact Cartridges

Designed to perform in the Technotrans inkline, handfill and easyfill systems, the Flow-Rite Exact ink cartridge has a patented SonoValve design and shipping cap, and is available in 2-kilo size.

The cap allows the cartridge to be self-standing, keeps the valve closed during plunger insertion, and protects the valve during shipping and storage, as well as against damage if the cartridge is accidentally dropped.

READYFLOW® Ink Dispensers

READYFLOW® Ink Dispensers

Designed especially to work with Sonoco's popular Flow-Rite cartridges, the READYFLOW ink dispenser can cut ink waste to less than two percent and eliminate the time-consuming mess of ink knives and tin cans. It reduces wash-up time and the need for solvents and cleaning materials. Simple design makes cartridge changes easy and fast, and an air regulator permits air pressure adjustment for different ink viscosities.

The dispenser includes a built-in tool retractor ring for suspending the dispenser over the press. Available in sizes for either 8- or 4.4-pound cartridges, the handly READYFLOW dispenser needs only a few minutes and 100 psi of air to set up.
Markets We Serve
Ink Cartridges

Cosmetics

Paint Colorants
See what Sonoco can do for your business.