Returnable Dunnage
Best Protection. Optimal Logistics. 100% Recyclable.
Sonoco's transGuard® returnable dunnage solutions use molded expanded polypropylene (EPP) foam to protect your fragile parts and components against the rigors of distribution.  EPP foam is a strong, durable and lightweight material designed to withstand many years of reuse.
Increase protection while reducing costs for shipping and logistics.
Serving a variety of industries and applications, including automotive, aerospace, recreational vehicles and appliances, transGuard®  returnable dunnage is designed to protect your most sensitive products, parts and components during transit, while significantly reducing your shipping and logistics costs. Strong and durable, transGuard packaging stands up to the rigors of shipping and storage over many years of continuous use. After your product is delivered, empty transGuard packaging can be returned and refilled again and again. When your transGuard system reaches end of life, the material is completely recyclable! Building the case for transGuard one benefit at a time.
A Revolution in Reusables
Totes, Inserts, Custom Damage
transGuard® Stand-Alone Totes

transGuard® Custom Dunnage

transGuard® Tote Inserts

transGuard® Bulk Bin Inserts

transGuard® Rack Dunnage
transGuard® Stand-Alone Totes
transGuard stand-alone totes are exceptionally strong and about 40% lighter than injection molded totes. The interior and height of these totes can be highly customized to protect parts and optimize transportation efficiency. In fact, our custom height stand-alone totes can increase trailer densities by as much as 50% versus off-the-shelf, standard height injection molded totes. This lowers your freight costs and improves storage utilization. To further reduce costs, we offer our transGuard stand-alone totes in a wide variety of configurations to fit common pallet sizes with tooling to fit all standard footprint totes. transGuard totes can be cost-effective for programs requiring as few as 500 totes in the returnable fleet.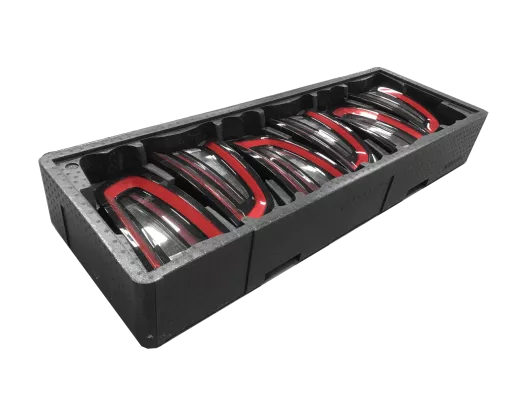 transGuard® Custom Dunnage
Our custom dunnage option provides an excellent solution for large, complex items. Our skilled designers can create customer solutions where "the sky is the limit." Over the years, we have created packaging for components over 100 inches in length, including dramatic curves and nesting features, to optimize logistics efficiency and part protection.  Some dunnage solutions can be designed to collapse for return shipping, creating return freight improvements as high as 50 percent.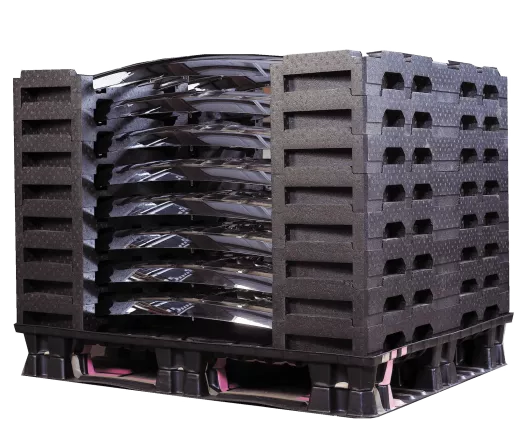 transGuard® Tote Inserts
Often referred to by their size or "pallet modularity" (ex. 1/4 or 1/6 totes), transGuard tote inserts are light density parts that go into a standard injection molded tote. Our transGuard tote inserts may offer cost savings over traditional interior dunnage, while offering the same excellent part protection as our stand-alone totes.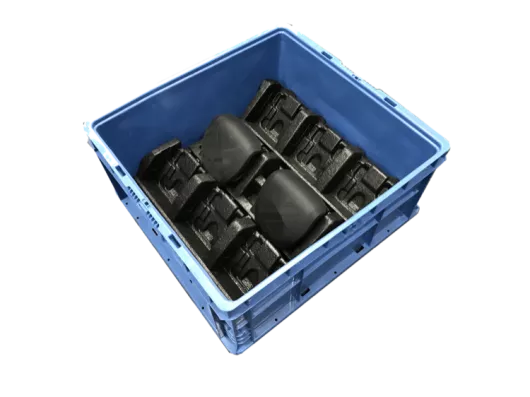 transGuard® Bulk Bin Inserts
If your company prefers to use plastic bulk bins instead of pallet-based packaging solutions, our transGuard bulk bin inserts can provide the same excellent part protection and ease of use as our stand-alone totes. Our bulk bin inserts are designed to be placed inside a traditional plastic bulk bin with an integrated pallet and drop-down doors. This solution offers the ease of use provided by bulk bins, while also maximizing container yield and part protection just like other transGuard products.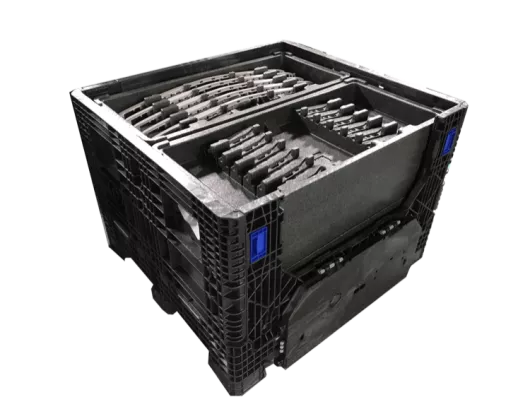 transGuard® Rack Dunnage
Sometimes, due to component size, weight, or ergonomic requirements, metal racks provide the best material handling solution.  Sonoco Protective Solutions can provide turn-key solutions incorporating racks and transGuard dunnage to protect your specialized components and optimize your material handling environment.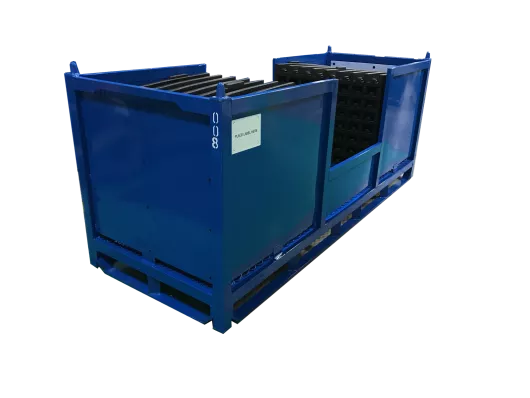 See what Sonoco can do for your business.