An Industry Standard
As North America's leading producer of wood reels, Sonoco's nailed wood and plywood reels are used for a wide range of wire and cable applications.
Our reels have been the industry standard for more than 50 years. With Sonoco, you receive the benefit of a manufacturer with plants, recycling centers and service/assembly centers across North America. And with design and development resources around the globe, your needs will be met today and long into the future.
For customer service, call 800-633-3962 (U.S.) or 256-751-1092 (outside the U.S.). For more information, download a brochure with details on the Sonoco wood reel portfolio.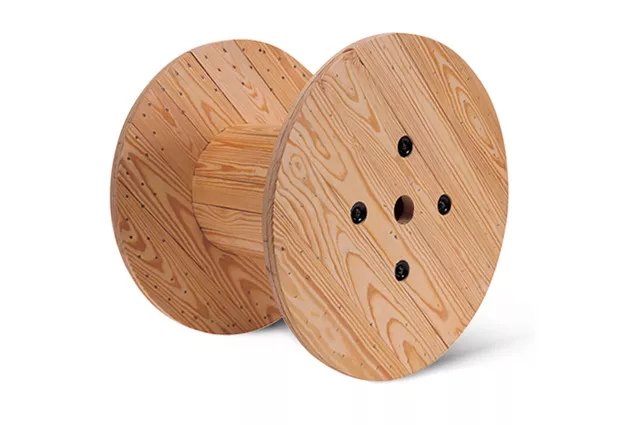 Nailed Wood Reels
Sonoco's nailed wood reels have been an industry standard for more than 50 years. Flanges are returnable and refurbishable, with diameters ranging from 14" to 116" (356 mm to 2,946 mm).
Construction
Reel heads are laminated lumber of two- to four- ply.
Barrel staves are machine-cut to the required curvature and thickness.
Reels are bored to customers' specifications for drive, tie-off and start holes.
Plywood Reels
Sonoco's plywood reels are an economical solution for a wide range of wire and cable applications. Flange diameters range from 10" to 60" (254 mm to 1,524 mm), and are available in recyclable and single-use packages.
Construction:
Flanges manufactured from pine or hardwood plywood
Fiber tubing or wood stave barrel
Painting and/or printing available
Bolts are ¼" slot or hex head with T nuts, or 3/8" hex head with washers and nuts
See what Sonoco can do for your business.