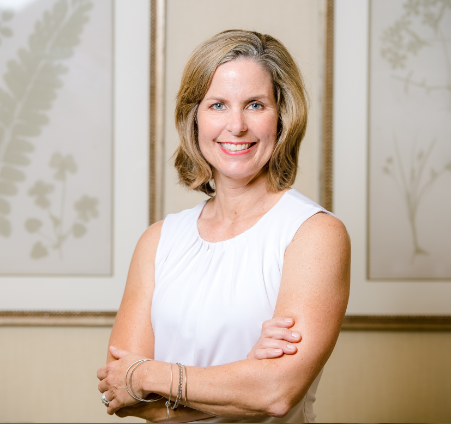 On this International Women's Day, meet Julie Albrecht, Vice President and Chief Financial Officer at Sonoco. As Chief Financial Officer, Albrecht is the senior executive responsible for managing the financial actions of the company. Albrecht joined Sonoco in March 2017 as Corporate Vice President, Treasurer and Assistant CFO, overseeing the Company's treasury, tax and risk management functions. In that role she was responsible for the Company's relationships with the credit rating agencies and commercial banks and has handled financings for four acquisitions totaling approximately $690 million. She also has been instrumental in the Company's efforts to drive significant improvement in cash flow from operations and free cash flow and has been responsible for management of the Company's retirement benefit plans.
We sat down with Julie to learn more.
During high school, when many are just beginning to think about careers, what were your interests? Were you interested in finance then?
I grew up in the Nashville, Tennessee area. In high school, I enjoyed many activities with friends and family, and at school I participated in our marching band and student government. My favorite class in high school was Chemistry, and I also enjoyed studying French. I didn't have any specific interest in finance until I went to college. My dad encouraged me to consider a major in business and as it turned out, I had a knack for accounting.  
What was your plan right out of undergrad?
As an accounting major, the only first post-college job that I considered was in public accounting. My first job was with PwC  in audit. I learned many important skills during my time there, including financial analysis, internal controls, attention to detail and time management. I've taken these skills with me throughout my career in finance.  
Early in your career, did you envision yourself as a future Chief Financial Officer?
After leaving public accounting, I moved into a cash management role in a Corporate Treasury department. As I spent more time in Treasury and enjoyed it so much, my goal was to become a Treasurer. As more time passed and I worked in business unit finance, FP&A and Investor Relations, my career goal did become being a CFO. I've really enjoyed working in various parts of finance, being challenged along the way and always working to be a value-added member of my team.
What piece of advice were you given that you still lean on today?
I've been fortunate to have some wonderful role models and mentors whom I've learned so much from.  Much of that was learning from the actions of these people. I learned that it's important to work hard, keep a positive attitude and treat people the way you want to be treated.  
What advice do you offer women in the workplace and specifically, in manufacturing?
I encourage women in the workplace to be themselves and have confidence that they can achieve their goals. It's also helpful to have a mentor who can give you advice on self and career development. Looking back on my career, I listened to much of the advice that I received but could have listened even more. Also, life is busy so be sure to take some time for yourself!  
What can women at Sonoco do to better support and promote each other?
I'm very excited about the new Women's Business Resource Group that has formed. This will be a great way for women at Sonoco to connect and support each other. All of us, no matter where you work in the organization, can support another woman in areas including daily work life, career goals or common personal experiences.