Wireframes and 3D renderings are like investments. They have an immediate up-front cost and some small management fees but yield long-term dividends to your brand.  With functional and monetary benefits, these digital assets are increasing in popularity. Be sure to not only develop wireframes and 3D renderings but maximize the capabilities they offer.  
But first, what are wireframes and 3D renderings?  
Wireframe: a digital skeleton of your packaging to showcase the packaging form 
3D Rendering: a created 2D image from a prepared 3D wireframe digitally overlaid with texture and graphics to create the appearance of a final visual representation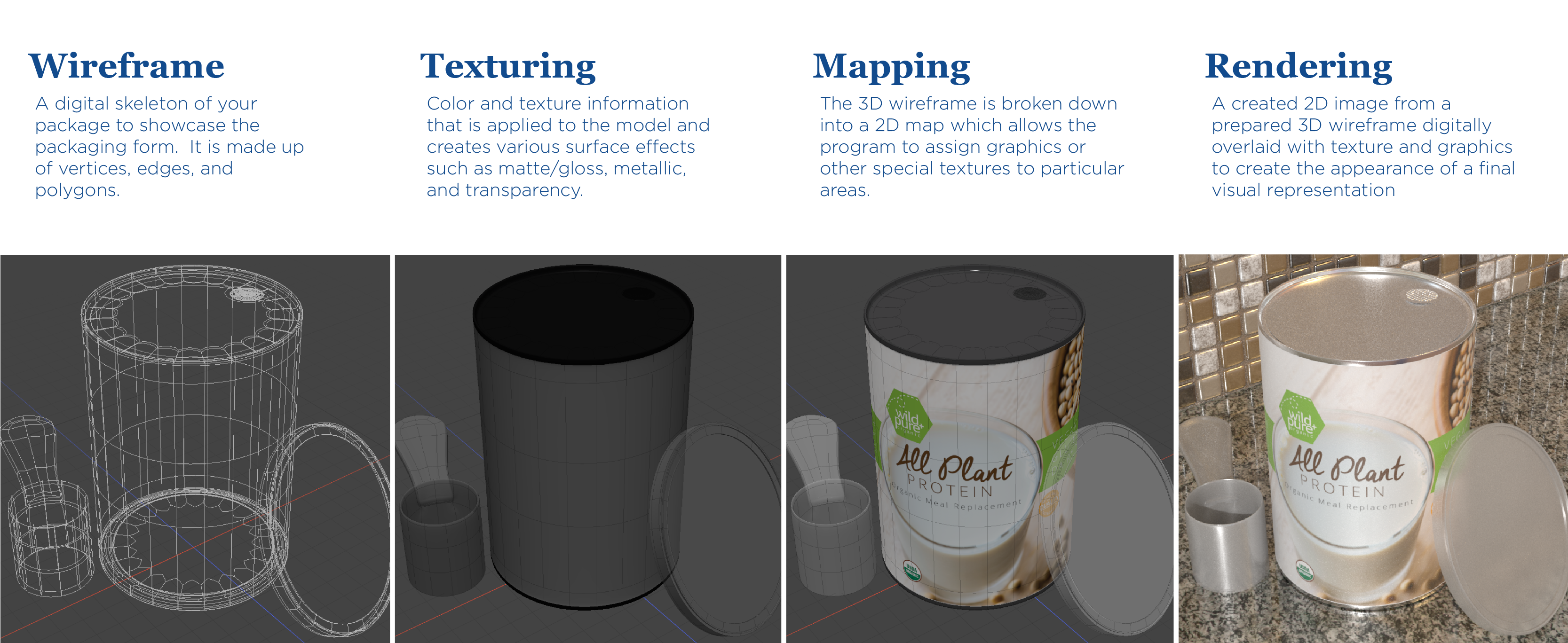 Benefits of Wireframes and 3D Renderings 
Marketing Promotions  
After the initial work of modeling your packaging into a wireframe, a designer can swap out new graphics on the same packaging shape for use in a variety of digital and print promotions. Have an iconic piece of packaging? Creating a wireframe allows you to integrate seasonal images and quickly wrap graphics around that standard shape. Have a product that isn't readily available but want to show it off in your marketing collateral? An image of your product can be placed in the 3D rendering to showcase product-filled packaging. See what we mean about investments? One up-front investment for time and talent, continued maintenance when you replace graphics, but long-term dividends with a multi-purpose design.  
The final images can be used on your website, social media, print collateral, and even video. For example, Sonoco-Trident takes the final models to the next level by showcasing them in footage. Take a look at this video!  
Ability to Minimize Mockup and Prototype Requests 
Mockups and prototypes are physical representations of a packaging concept. While beneficial to brands, they cost time and money to create. Wireframes and 3D renderings won't replace the need for mockup and prototype requests, but they can minimize these requests.  
Through the use of specialized computer software, a designer can swap out packaging features such as closures or graphics. Fortunately, most rigid packaging requires 3D models in the creation process, so these are likely pre-existing assets. If decision makers don't like the look of a concept as seen on screen, they can easily continue requesting updates on digital assets until they feel comfortable with the look of a package. Once the final look is achieved, decision makers can go one step further and request production of prototypes or mockups based on the approved digital visual criteria.  These physical representations can then be used for the in-person experiences.  
Enhanced Research  
Wireframes and 3D renderings can help your brand gather consumer opinion about your packaging. Say you are implementing a Likert-type scale to digitally survey consumers about a window placement on a packaging concept. You can visually represent each creative concept and get the consumer responses you need without the need for in-person studies. Plus, digital surveying can allow for broad participation as you gather consumer feedback from across the globe.  
Cost and Time Reduction  
Digital assets for marketing promotions and concept testing can reduce cost and time spent on printing, materials, and labor. Minimizing mockup and prototype requests and printer usage can save you money. Plus, with digital models, there's no extra charge for that high-end gloss, embossing, matte finish, or metallic effect!
When you reduce printing requests, this also reduces the time creative talent would spend on those requests, allowing them to channel energy into your brand's next great design. After all, swapping some graphics on a wireframe is much less time intensive than creating and printing graphics and handcrafting a mockup.  
Let's talk specifics. When Coca-Cola Company's global 3D design lead spoke to Adobe about changing up package design process and creating a library of 3D assets, Adobe reported "savings of 'up to$100,000' per project on visualization work: roughly 33 percent of the budget."1  
As you move forward with your packaging development, be sure to not only implement wireframes and 3D renderings in your process but maximize their potential for your brand.  
How Can The HiveSM Help?  
Our research, design, and development experts at The Hive℠ are capable of fulfilling wireframe, 3D rendering, prototype, mockup, and sample requests. The Hive℠ Design Services can also design custom research programs to uncover your customers' brand connection, preferences, pain points and usage behavior, while revealing themes that you can use to build your strategy for enhancing consumer engagement and brand loyalty. Our certified moderators, research and packaging specialists will build the qualitative and quantitative studies you need to test your concepts at scale, from insights to prototyping. For more information on how we can help you convert insights to opportunities, email us at TheHive@sonoco.com or visit our page www.sonoco.com/graphics-management.
1 Thacker, J., Adobe Blog. "Coca-Cola Transforms Its Package Design Process with Adobe Dimension," 2019. https://blog.adobe.com/en/publish/2019/10/29/coca-cola-transforms-its-package-design-process-with-adobe-dimension