When is the last time you went anywhere without your smartphone? When was the last time you used your smartphone to look up something on the internet? Based on a recent report from the research firm Statista, there are an estimated 275 million smartphone users in the United States alone, and each user represents some form of buying power when it comes to purchasing retail products, whether in-store, or on-line. What these users also share is a potential positive, or negative experience with a brand that can impact repeat purchases, brand loyalty and influential word-of-mouth with friends, family, colleagues and the entire social media universe. But, how do brands tap into the proliferation of smart devices to impact purchasing behavior and brand advocacy?

Smart Packaging. A Smart Way to Reach Smart Shoppers in Today's Technology Driven World.
Remember the QR Code? In some circles the QR Code is seen as never having achieved its potential disruptive power in retail product marketing. But that all changed when in 2017 Apple made an iOS 11 update that allows QR codes to be scanned directly through the camera app, a real game changer when it comes to convenience. And the latest Android smartphones have made the QR code reader a native feature as well. Cameron Worth, CEO and founder of marketing agency SharpEnd, told Packaging Europe: "You might not think it, but the most important piece of tech to watch is still the mobile phone. Handset manufacturers across the board are developing the tech to better connect consumers with their products, through relevant, app-less experiences. In the short to midterm, it's these devices that are powering new ways to engage, from NFC (Near field communication) to AR (Augmented reality) and beyond."
Today's shoppers are hungry for information. They are seeking transparency in labeling, while also looking for authenticity from brands, as well as help in how to use or prepare products. The humble QR Code represents a seamless way to build consumer trust, tell a brand's story, build a connection with shoppers, drive interaction and create an educational and promotional platform that further cements the relationship with customers. QR Codes build a digital and emotional bridge between brands and buyers by revealing information immediately, or taking consumers to dedicated landing pages that offer another platform for engagement and "stickiness" built around interactivity and additional information. Scanning a QR code is simple, fast and less prone to user error. As just mentioned, you can use a QR Code to take a shopper directly to a landing page focused on a specific product without any detours along the way.
QR Codes can be used as the pathway to ingredients, nutritional information, recipes, promotions, videos, and much more. Imagine sharing a recipe with a QR code and listing the other ingredients that shoppers should pick up in addition to your product? What if you included social sharing buttons so they can let friends know that they're making your recipe? You could also use this opportunity to make recommendations for other products in your portfolio. Recipes get shoppers involved with your product and make them part of the experience. Contests are another great way to connect with customers. You could direct them to a landing page with a form to get their information, and use it to enter them into a random drawing for some great prize. Below are some examples of how brands are already using QR codes, but how can you challenge these norms? Have you considered using QR Codes not only to provide information and connect to your social channels, but to connect consumers with each other by having them upload content instantly, or share some of the ways they are connected to the brand from personal experiences?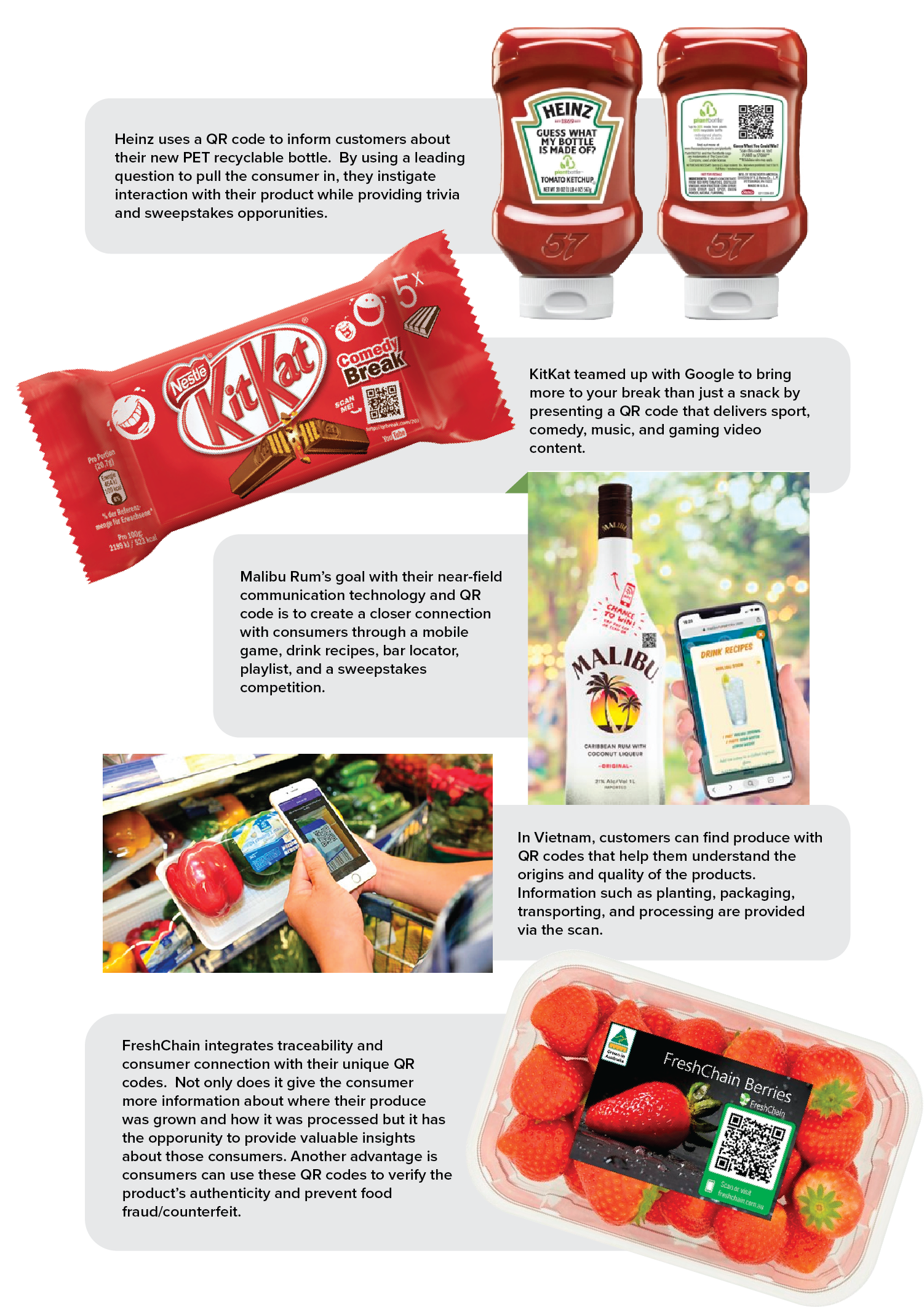 This kind of interaction helps brands build distinctive personalities and become more consumer-centric. This use of the technology and the data gathered can also be mined to uncover unmet needs by segment, assess willingness to pay, provide insights on new packaging trends, consumer perception, as well as opening up a channel for interactive dialogue with shoppers. Smart use of smart packaging, like QR Codes, also allows brands to keep using the same package design while still sharing fresh new content.
Using QR Codes isn't limited to use in a bricks-n-mortar environment. With the explosive growth in E-commerce, QR Codes provide an excellent way to connect with consumers, for all of the same reasons connected to physical interaction with your product in-store. With a QR code, you can take your customer directly to a page that will enable them to sign up for a paid subscription, order more of a product, or even purchase your product as a gift and have it sent to someone else. People have deep, emotional connections to their mobile devices, and with online shopping in the mobile space, that connection can be leveraged to your brand's benefit.
The integration of technology like QR Codes, NFR tags and RFID, into packaging is a trend that appears to be here to stay. According to the research firm Freedonia, "Intelligent Packaging" demand will advance at a double-digit rate. And, in a recent report from McKinsey Consulting, titled, No Ordinary Disruption: Winning with new models in packaging 2030, they identify several major trends that will "change the game" in the packaging industry, and where smart packaging can play a role:
E-commerce everywhere. Intense focus on increased packaging requirements, including for new products, along with last-mile delivery innovations
Changing consumer preferences. Demand for much more personalization, convenience, health, and affordability, driving SKU proliferation to new heights
Digitization/Internet of Things (IoT). Both to drive down costs and, increasingly throughout the decade, gain a competitive edge with consumers; for example, by generating greater customer value and service through technology integration in packaging
So, are you ready to rethink the role of the QR Code in your retail marketing strategy? If you are, we can help. The Hive℠ Design Services and Sonoco are ready to help you get to know your current, or prospective customers better, by designing custom research programs to uncover their brand connection, preferences, pain points and usage behavior, while revealing themes that you can use to build your strategy for enhancing consumer engagement and brand loyalty. Our certified moderators, research and packaging specialists will build the qualitative and quantitative studies you need to test your concepts at scale, from insights to prototyping.
For more information on how we can help you convert insights to opportunities, email us at TheHive@sonoco.com or visit our page www.sonoco.com/graphics-management.